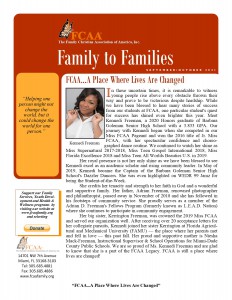 2020 Black Achievers of Excellence Luncheon
Highlights
On February 26, 2020, FCAA held its 36th Annual Black Achievers of Excellence Program.  This year's event, held at Shula's Hotel and Golf Club, recognized 20 outstanding achievers in various fields.   FCAA, in conjunction with over 100 public and private companies, has recognized more than 600 outstanding Black professionals since the program's inception in 1984.  These honorees serve as excellent role models for our youth.  The program has become one of the most innovative and successful endeavors that inspire and motivate youths to succeed.  Many of these young people return to the community to share their success with the next generation.  The program helps Black youth develop a positive sense of self and sets high education and career goals.
What Makes FCAA Different From Others?
Longevity in the Community
Founded in 1984, FCAA is an organization designed to help youths and their families use their personal assets to achieve independence.
Dedicated Staff
FCAA employs a staff of more than 150 individuals, providing services to over 1,500 individuals daily at more than 15 locations throughout South Florida.
Solid Programs and Services
FCAA continues to build upon its reputation as an organization that gets things done and changes the lives of those served. Through its Family Services, Youth Development and Sports programs, FCAA continues to provide services that promote independence and success for individuals.
The Family Christian Association of America, Inc. is committed to giving back to the community it serves!